Back to the list of products
Smoke alarm detector RM250 Smartwares
Act in time when a fire occurs thanks to the Smartwares RM250 Smoke detector. The smoke alarm comes with a 5 year battery. The loud 85 dB alarm allows you to prevent life threating situations.
A smoke alarm saves lives
A fire can occur anytime, even when you are asleep. The toxic gas can make you lose your consciousness and prevents you from waking up. Therefore, it is important to wake up in time when fire breaks out. A smoke alarm warns you in time so you can respond quickly to life-threatening situations. It is important to know that smoke detectors have a maximum lifetime of 10 years after activation due to dust accumulation, therefore you should always check the date on your smoke detector and buy new ones every 10 year to be sure you have properly working smoke detectors.
Choose the right smoke alarm
All Smartwares smoke alarms are equipped with an optical sensor. An optical sensor reacts fast to smoldering fires, has less false alarms and is environmentally friendly. The battery of the RM250 Smoke detector has a 1 year lifetime and the sensor has a maximal lifetime of 10 years. The empty battery indicator alerts you with a sound signal if your battery needs to be replaced. The smoke detector is equipped with a hush mode that can be used to mute the alarm if it sounds a false alarm.
Installation
To be sure you will get warned when a fire breaks out it is recommended to place at least one smoke alarm at every floor. We recommend to place smoke alarms in the spaces you pass when fleeing, for example in your hallway or stairs. Smoke rises and therefore it is important to always mount your smoke alarm at the ceiling, this can be done easily by using some screws or a mounting plate. The Smartwares smoke alarms are wireless which allows you to place them everywhere at home. Thanks to the security pin you can only mount the alarm when the battery is inserted.
Maintenance
The functioning of the smoke alarm can be influenced by dust and filth, it is therefore important to clean your smoke alarm monthly by using a slightly damp cloth and biannual with a vacuum cleaner. You should never use cleaning products or paint the smoke alarm.
Test your alarms
It is important to check your smoke alarm on a regular base with the testing button. The smoke alarm should be tested monthly in order to be assured that it is well-functioning when a fire occurs. You will hear a short beep if the battery is running low, this way you get alerted when you need to replace the battery.
What's in the box?
Smoke detector, battery, instruction manual, mounting materials
Features:
Protect yourself and your family by acting fast when a fire occurs
Loud 85 dB alarm
Smoke alarm equipped with a test button for easy testing
Low battery indicator that alerts you when the battery needs to be replaced
Easy to install and clean
Certificate
Certificate
Dimensions
9,5 × 9,5 × 3 cm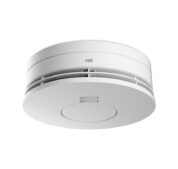 Busch-Smoke alarm detector ProfessionalLINE
ABB (#6833/01-84-500)